Gadzooks: "An exclamation of surprise or annoyance"
Well my friends, I can tell you it's DEFINITELY not annoyance.
Surprise and utter glee has hit my tastebuds like rogue space junk coming out of orbit. 
To make a long story short, I dabbled with recipes I've had bookmarked for ages and all came out better than I could've imagined!!
Let's take a gander on this fine WIAW.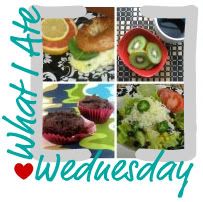 Thanks Jenn for hosting!!
#1 I made these waffles (with vanilla whey protein instead of unflavored soy protein) in my grandma's ancient waffle maker we found.
First time having waffles in 10+ years? WIN.
I hated waffles with a passion as a kid, but like peanut butter, my tongue mates have changed their tune…I think I found my new favorite breakfast!
I made a double batch and paired the 4 beauties with 1/4 cup greek yogurt mixed with coconut flour. It fueled me SO well for my workout on Tuesday!
#2 Made these salmon cakes–words can't even begin to describe the new love affair I have with these.
I mean how can you go wrong…kabocha AND salmon in one recipe?!?
I kinda want to eat these every day for the rest of my life…
The sweetness of the kabocha perfectly complimented the saltiness of the salmon. They came out moist and sensational!
#3  I blended up this mango green monster (added ice) and it rocked my world.
#4 Sarah's oat bran made with cottage cheese instead of greek yogurt and with the pudding mix option. I topped it with peanut flour sauce and had a mini heart attack. It was a puff-tastic pillow of palate-pleasing pleasure (say that 3x fast haha)
~~~~
All in all, I'd say my tastebuddies have been VERY happy campers this week!
I guess I should enjoy this extra kitchen time while I can before classes start next Tuesday…dun dun dunnnn
Well, I'm off to get dressed and ready for fun at Costco!!
~~~~
Favorite fish? (mahi mahi, swordfish, or salmon for this chick
)
Recent awesome recipe discoveries? (feel free to link it up in the comments!!)
Best thing you've eaten this week?