First off, I've decided I'm coming to visit every single one of you guys just so I can give you a hug and hang out. SERIOUSLY y'all are SO flipping sweet!!! Since I got so much rad feedback from my first vlog yesterday, I'm totally gonna be doing more vlogs in the future. Get excited cuz there's gonna be a lot of Southern accent action up in yo hood 8)
~~~~
Onto the point of this post…
We've all heard of them. We've all been guilty of them. We've all wanted a sloth for a pet at some point…or is that just me?
…
I am a bad girl.
This week, I have 100% mastered all seven deadly sins with my eyes closed and one hand tied behind my back while jumping on a pogo-stick.

Let's take a lookskies in What I Ate All Week form–
1. Anger—I over-baked my sweet potato cookies and they came out oober dry because my oven timer failed to beep. Not cool oven, not cool.
~~~~
2. Greed—The only apple I love MORE than honeycrisps and pink ladies…SWEET TANGO apples!! So when I saw my number one lover at the grocery store, I may've bought all of the pretty ones and just left bruised, nasty, small ones.

~~~~
3. Sloth—My inner lazy kitchen diva thoroughly delights in plopping leftover turkey muffins, straight up pico de gallo and frozen microwaved edamame on a plate and calling it dinner.
~~~~
4. Pride—I bought little kid Lion King silverware at the Disney store!!! I've been using them for everything mwahaha RAWR
(Cottage cheese, frozen raspberries, hi lo cereal, and globs of peanut butter–sorry for the craptastic phone picture)
~~~~
5. Lust—It's official, I'm in love. I visited home last weekend to pick up some fall clothes and to say hi to my parents…my mom had baked vanilla cupcakes from scratch with buttercream frosting. She sent me home with a ton and honestly, if ever I could be in love with a dessert, this is it.
~~~~
6. Envy—My meal also from last weekend when I went to Whole Foods with my parentals. I wish my college town had one!! Whole Foods' hot/cold bar makes me weak in the knees.
 (Rotisserie chicken, turkey breast, romaine lettuce, random bean sprouts, oven roasted veggies-squash, carrots, zucchini, cauliflower, red peppers, green beans and onions. This weighed over a pound, and I demolished it baby)
~~~~
7. Gluttony—One word: pumpkin. My palms are beginning to have an orange sheen.
(Libby's pumpkin, greek yogurt, ON vanilla casein protein powder, peanut butter—later I added Grapenuts cereal on top for some crunch)
And of course in pumpkin smoothie form…
~~~~
Happy WIAW!!! Thanks again Jenn for hosting our grand affair!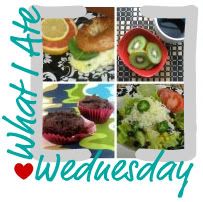 Which one of the seven deadly sins do you commit frequently? Ever owned a pogo-stick? (I never have and it brings a tear to my eye)
And of course…best thing you've eaten this week?